October 19, 2011 |
Jason Joyce
THe Truth Is Rarely Pure And Never Simple -Oscar Wilde
For the past few years, the great debate in the stuffy world of wine has been alcohol. It is a topic that people feel passionately about. It is also one of those rare topics in the discussion of wine that has actual concrete parameters that can be discussed. Thus it is a great thing to base symposiums and discussion groups around.
I for one could care less what the alcohol percentage is of a wine. Either I enjoy it or I don't. But the number is printed on the label and gives ammunition for all with a bone to pick. The most common bone being picked is that high alcohol wines are a stylistic decision made by lazy winemakers. People who dislike high alcohol wines claim it as evidence as an attempt to make big flabby overripe wines to trick some critic into giving out a big numerical score to the wine.
Like I have discussed earlier in this blog, I pick mainly by using my natural senses. I like to look at the chemistry just so I know what I'm getting myself into as far as the ferment goes. But the decision as to is the fruit ready to come off the vine, I trust mainly my sense of taste, touch, and sight while walking the vineyard. (If I am smelling or hearing the grapes on the vine, that is an indication that I should have picked yesterday.)
One of the big reasons I have decided to swing my decision making so far into one camp is due to the fact I make wine in Paso Robles. This is a unique place making unique wines. If there is a textbook out there that explains making wine in Paso, I haven't read it yet. Most accepted thought on winemaking was established elsewhere, thus I always take lessons from afar with a grain of salt. For a case in point, let's look at the 2011 harvest.
Things are all over the map this year. Early ripeners are developing late and vice versa. I picked some Tempranillo last week that was 23.8 Brix and 3.95 pH. Sure that's just the low acid nature of Tempranillo, but even though it will end up being around just 13% alcohol, the fruit was plenty ripe and I didn't want to let it hang another day. Then this weekend we picked some classic Paso Robles fruit.
Our Kate's Vineyard Zinfandel is always one of my favorite picks of the year. The vines are not overly vigorous for Zin, and produce amazingly complex wines. One of the main reasons for the complexity is high acid and tannin in the must even when pushed for ripeness. Here is the brix measurement after a 4 day cold soak.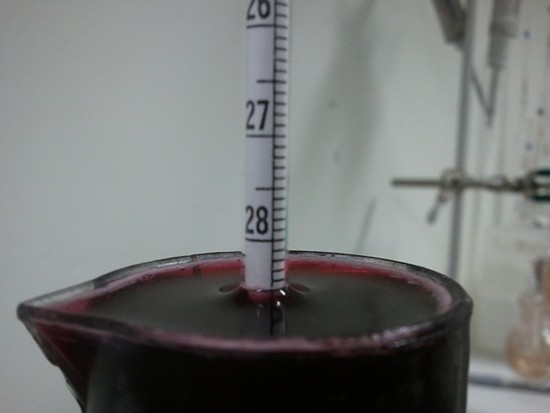 Text Book Convex Meniscus There!
28.5! There I go chasing big scores with my big lazy overripe jammy Zin that is going to taste like some Virgin Islands cocktail. If I was making proper wine, I would be pushing for balance, restraint, nuance, complexity. I would have picked it 3 weeks ago at a respectable 25 brix. Instead I'm just going for power to win over some critic who is never going to taste this wine anyway.
Well before we start jumping to conclusions; let's look at some more evidence. I can't have you virtually taste this, so I can't prove that this wine is going to be incredible. But check out this photo: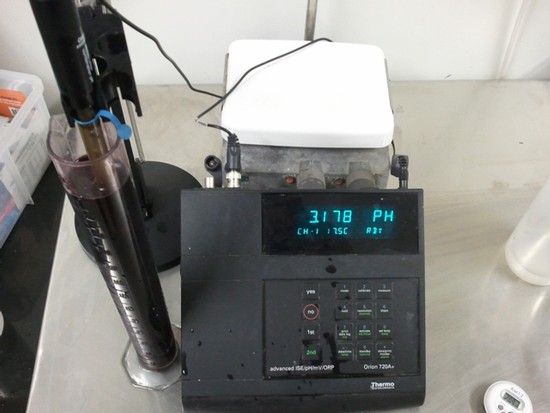 Wait, what? 3.178 pH. My favorite was the sample I took 2 weeks ago that was 26.2 Brix with a 2.84 pH. So there I go, trying to impress the euro snobs with my austere acidic wines that will take years of ageing to be drinkable.
So who am I making this wine for? Well, I'm making it for the people who have tasted our Zin and love it. Sure these numbers are off kilter, but this must tastes right it its own peculiar way. Big and ripe but with amazing backbone, color and tannin to bring everything into proper balance. Our 2007 Zin had very similar chemistry and it sold out in about 3 weeks. If I could get the numbers to be more traditional, but had to sacrifice what this must tastes like, I would never go for that.
Next time someone wants to look at the % number on the wine label and pontificate about the winemaker's intention, tell them this little story. This world is not always so black and white.