Refer-a-Friend Bonus Period
Wine club membership is even more fun when it's shared among friends! Ask friends and family to join you in the wine club, and both of you will receive a special "Thank You" bonus gift from Calcareous!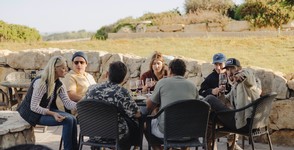 1. Referal Bonus Period
Active members may submit referrals through October 31st.
2. Accepting Your Referral
We will notify you if your newly-referred friend joins the club. When they join in time to actively participate in the winter wine club release in November, special bonus gifts will be awarded to both of you.
3. The Thank You Gift
For each successful referral, a $50 Calcareous eGift Card will be sent to both of you:
The referring member AND the new member!
Details
Gift cards can be used toward online or tasting room purchases of wine or experiences, but may not be applied to quarterly wine club allocations. There are no limits to the number of referrals that can be made and gift cards earned. Club members can also earn this bonus by giving the gift of a Calcareous wine club membership to friends and family. Referrals must be received by no later than October 31, 2023, and accepted (by joining the wine club) by no later than November 30, 2023. Both the referring member and the new member must participate in the Winter 2023 wine club release to receive the bonus. Gift cards will be issued in January 2024, and will have no expiration date.
You can reach your wine club team at (805) 239-0289 or wineclub@calcareous.com.