February 9, 2011 | Chalk Talk, The Vineyard, Wine Opinions | Jason Joyce
So Why The Name Calcareous?
The most commonly asked question of our tasting room staff or to me while I am at events is, "What's the deal with the name Calcareous?" Well, maybe not exactly phrased like that, but you get the picture. The quick answer is that we have Calcareous soils here which means they are limestone-based. But the point of this blog is to be able to dig a bit deeper into these questions.
Many of the world's great wine growing regions are located above limestone deposits. Famed regions of France such as Châteauneuf-du-Pâpe, Saint Emilion, Alsace, and Burgundy all share the quality of having limestone soils. The reason limestone seems to be abundant in these great wine regions has been the subject of much debate and thorough research. The easy answer that the chalk imparts unique flavors or minerality to wine has been mostly rejected. There is however hard science proving that high pH, calcium rich soils do have a unique impact upon Vitis vinifera. For the sake of keeping this post somewhat managable, I won't go into all of that here. But if you are the inquiring type that enjoys bringing a bit of wine science to the dinner table or your next tasting, here are some resources. This primer by Valerie Saxton printed in the Wine Business Monthly is a great article for the scientifically inclined. Our neighbor and king of Paso Robles wine bloggers Jason Hass at Tablas Creek, took that info and summarized how it plays out here in Paso Robles.
So, with all that being said, if we dare call ourselves Calcareous, we better produce the limestone to back it up. So my assistant winemaker, two dogs and I went out into the vineyard on a hunt for this magical stone. One thing you'll notice walking around our vineyard, or even while driving the windy roads of West Paso, there are quite a few white chalky looking rocks laying around. My first inclination as a winemaker and lazy geologist was to point out to visitors, "Hark, behold the wonder of limestone!"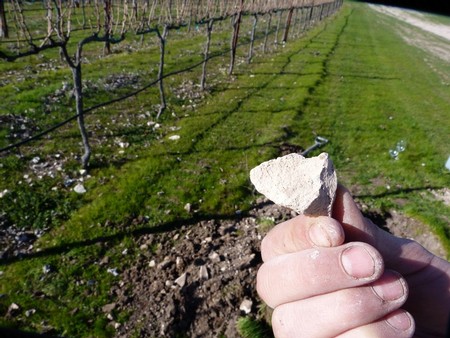 Well, sadly, one day a few years ago, an actual geologist was in one of my tour groups. There was a bit of snickering when I picked up my "limestone" and passed it around. Oh the sad comedy of the "know-it-all" winemaker getting called out by the scientist! What I was passing off as limestone was actually shale. I wasn't way off the mark as it was shale that had some calcite amongst the clay. That's nice, but I wanted outright pure limestone bedrock here to make other vineyards jealous. We're Calcareous for pete's sake! My new scientist buddy told me if I had pure limestone, you would be able drop it in a strong acid and--boom--Carbon Dioxide will come bubbling forth. Sure, vinegar or even our Chardonnay has enough acid to make some slow bubbles, but that's not impressive enough. So, grabbing some Hydrochloric Acid from the wine lab, we put our rocks to the test. If you place that chunk of shale into the glass, pretty boring.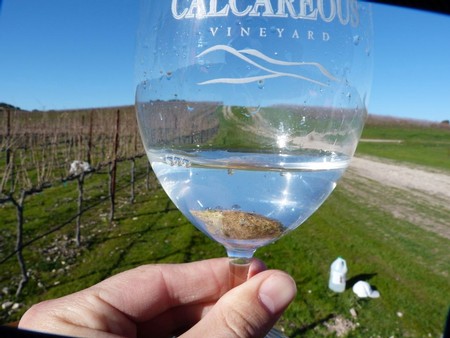 Nothing there to impress a viticulture geek, let alone any ladies on the tour. So we needed to find some of the good stuff. Que the shovels and the digging. Removing a couple feet of dark rich top soil and more chunks of shale had me feeling like Geraldo opening Al Capone's vault. But if you need to dig through a couple of meters of stone and clay at Chateau de Beaucastel to reach limestone, we had to keep going. Then, just a couple inches more and a new texture appeared. A soft, crumbly grayish rock-was this what we were seeking?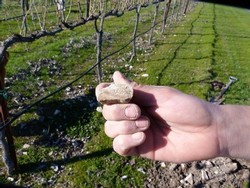 There's one fun way to find out, drop it in the glass of acid.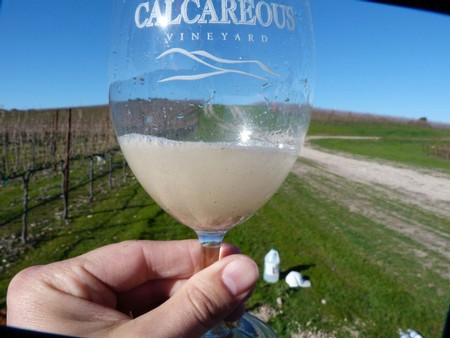 BINGO! And there was much rejoicing. So much excitement actually, we made the ill-fated decision to film me putting rocks into a glass. And the Internets are now richer for it.
So yes, we have limestone, and yes we are abundantly Calcareous. Great, why should any of you care? I know I promised not to go into this for brevity's sake, but we've come this far. If you're still here, you deserve something. From my own personal experience, I have a few reasons to believe having limestone bedrock only a few feet below the surface makes our vineyard incredible. The first thing I have noticed is that we rarely have to drop fruit here. The vines are extremely non-vigorous in either vegetal growth or fruit set. We naturally only produce about 2 tons/acre of fruit. We had a bumper crop this year which netted 38 tons from our 18 acres of vines. What little fruit we do get is of astonishing intensity. The color, tannins, and flavors extracted from fruit here rivals any other fruit I have tasted.
Secondly, if you read any of the sources linked above, you will learn that high levels of acidity are maintained in fruit grown on limestone soils. We achieve wonderful levels of ripeness in our fruit yet maintain pH levels from 3.1-3.5 in all the varietals grown here. This gives us the great necessity of big, fully extracted, ripe wines to be truly palatable:balance. Sure, you can dump a bunch of factory made tartaric-acid in your overly ripe grapes to bring the pH down to where you want. But that can not, and will not replace the flavor of natural grape acids. Natural perfection can not be imitated. Thus from this world-class vineyard, where pure limestone is just a scratch below the surface, we are producing world-class wines.
-Jason