February 28, 2011 | Chalk Talk, The Vineyard | Jason Joyce
Winter Wonderland
After 10 days of rumors and building excitement, it actually happened. Honest to goodness snowfall here at Calcareous. This happens maybe every 2-3 years, we get a bit of a dusting. But this one was a bit more exciting. Actual winter like conditions descended upon the vineyard this past Saturday. The temperature was 31, dropping all the way down to 25 overnight. That is some serious stuff for Central Coast California. We like our February's in the mid 60's and sunny.
But as you can see, everyone was quite excited to see some snow on the ground.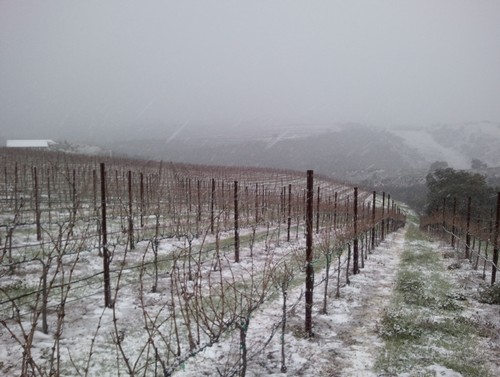 The vines are still dormant, so the cold temps were worry free for any budding that could take place. I was excited about the snow as a test of a little theory of mine. One about vines that, like people, those with more intense life experiences produce much interesting fruit of their labor. (Maybe I've been hanging out with the vines a bit too much as the anthropomorphisms are getting a bit too common.) Anyway, in my world this Cab Sauv vine is going to write a postcard to a cousin in France with the quick note "It's not all sunshine, beaches and easy living here in California!"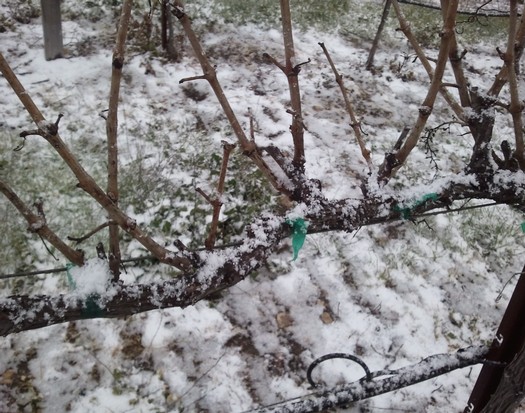 And like any excited snow novice who does not have to worry about shoveling the driveway, or getting to work on icy cold mornings, we made a nice little snowman/deer thing on our picnic table.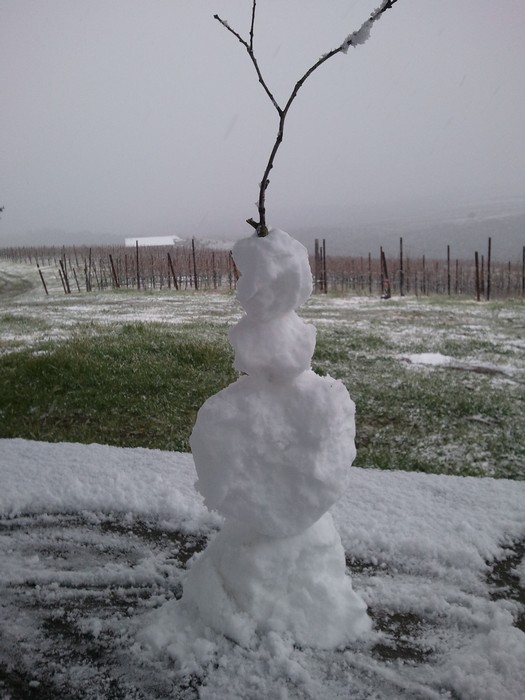 The only people that were not overjoyed were the possible picnic basket types who made their way up to our grounds to enjoy the view. Not too cozy out there for the wine and cheese snacking.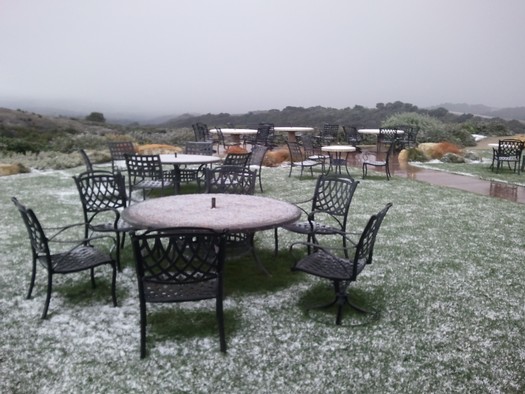 The tasting room though was warm and filled with customers hopeful that perhaps they would get snowed in and be forced to stay warm by drinking Cabernet and Syrah all night. Luckily for us all, this did not come to pass.