January 8, 2013 | Chalk Talk | Jason Joyce
Whole Hog Winemaking
It looks like the new year is upon us. Besides the difficulty of remembering to end written dates with /13, I got to thinking about what the future holds for us winemakers. I spent the majority of my December online time looking at various "best of" lists for 2012, thinking about what has happened. This gave me the desire to put my thoughts on the future in writing, see if what I think is the future will come to pass.
One of the culinary movements that really took full hold this year was nose to tail cooking. That is, not thinking of anything as waste but using everything you get in the kitchen as a possible ingredient. This probably began as a simple reaction to economics, tougher times usually leads people to think about how to stretch things out a bit more. Then it seemed like every restaurant I went to was using things in entrees and appetizers that only a couple of years prior were solely available at various street taco vendors on Mission and 23rd.
I'm seeing something similar happening in wine as well. Here in Paso Robles, making Pink wines from bled off red juice that would normally go down the drain is now common place. Most producers have used the trick of shoveling in your pressed off Viognier skins into Syrah ferments. Now that is expanding out as more white skins are ending up in all sorts of different red ferments. You are also seeing much more whole cluster fermentations these days. That involves using the stem, which usually goes straight to compost, along with the fruit in order to add tannins and spice to your wines. It also changes your fermentation dynamics, but that's another post for another day. Grapes that have shriveled on the vine to become raisons are easily sorted out by using shaking tables and tossed onto the compost pile as well. Not anymore, they are ending up in all sorts of places now. From straight "late harvest" dessert wines to being used almost like a spice added to ferments to add hints of rich sun ripened flavors to Zins and Syrahs. These are all part of the unending experiment that is wine making.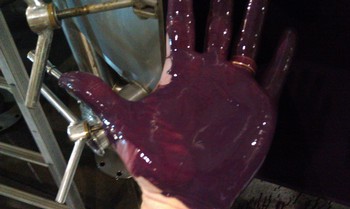 During this upcoming 2013, the waste product I plan to be trialing around with is lees. Lees is the heavy clay like sediment that settles out of wine over time. Traditionally, wine is continually racked off the lees. That is, over time, the wine is pumped off the top of the bottom sediment layer which aids in clarification and avoids strange flavors that may develop. Well, I for one am not afraid to embrace strange flavors. At a much larger winery, that could be dangerous, but that is the beauty and freedom of making wine at a smaller winery. If an experiment fails, the business does not fail along with it. By virtue of small size, we can afford to try different ideas and techniques.
Incorporating the unique flavor profiles developed in the lees is almost universal in Chardonnay production. The weekly stirring of barrel fermented chards to mix the lees back into solution is a key element in adding body, richness, and a little funk for a more complex white. I'm predicting that this the year that "sur lie" aging makes the crossover to reds.