January 30, 2012 | Chalk Talk | Jason Joyce
Take Care Of Your Feet
The most basic survival advice I adhere to when out in the backcountry or on city streets is this: Stay on the trail, keep hydrated, take care of your feet. Much of this applies to the winery cellar too. Well, at least 66% of it, because who cares about the trail. In fact, get off the trail when making wine, but that's another post. Since talking about drinking water is not a very exciting topic, I wanted to briefly mention feet.
Finding a good pair of shoes for working in the wine cellar is kind of a never ending quest (here's video of my last shopping trip) for the wine worker . It is all important, and you constantly think of ways to improve. Whereas companies make specific shoes for things like discus and javelin, nobody targets the wine maker, so we are on our own on this decision. And before you comment, no, I've never made wine in Australia so Blundies don't count.
So after 5 years of searching and improving, here is where I am on the quest right now: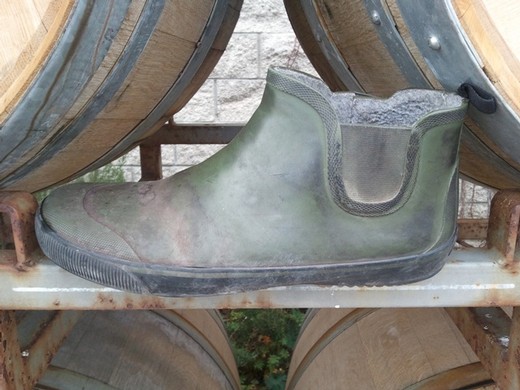 Behold the Tretorn Vinter. This pair is on month 5 of constant use and just about at the end of the rope. This being January, those 5 months included harvest, so that is about a full years use on a rubber shoe and it is still water tight.*
Besides being fairly tough, having a Euro pedigree, and a psuedo wine related name, what may you ask do I like about this shoe? It is easy to get in and out of for a work boot. Being the California Central Coast, you need to quickly get your boots off and unto a pair of sandals after work. The above the ankle size is perfect too as it keeps from rubbing on your calf like a rain boot, but is high up enough so they don't flood when someone dumps a garbage can of citric acid solution at you. Also, and you can see this better on the Tretorn website, is the fuzzy slipper like lining. Keeps you feeling oh so cozy when walking on cold wet concrete all day long. And finally, they have a sweet action grip on the bottom so you can hike the vineyard or shoot some hoops during lunch without changing shoes.
Sure, this may have little to do with the wine we produce here, but t is an insight into what us wine makers are thinking about all the time. The little obsessions that any job will create when you strive to perfect your experience. Also just a question to other cellar types, "What's your foot gear?", I'm still looking for something to beat the vinter.
* To anyone who might use Tretorn shoes in the cellar, here's a pro-tip! All the sanitation solutions you use will wreak havoc on the rubber. They will dry out and crack quickly, so go buy some silicone oil and give them a little rub down one a month for optimal life.