February 27, 2013 | Chalk Talk | Jason Joyce
Paso Robles' Unofficial Food
If you have visited Paso Robles in the past 5 years, you probably at some point have crossed paths with Tacos Al Pastor. Be it at a restaurant, the rehearsal dinner of a friend's wedding, the club pick-up party of one of your favorite wineries, they seem to be everywhere. My first experience with them locally was at the now defunct Restaurant Tenexepa off Creston Road during the 2007 harvest. After a 14 hour cellar shift, nothing could compete with a plate full of these $1.50 pork tacos washed down with ample Negra Modelo.
Having moved here from San Francisco, I was more accustomed to the overstuffed Mission style burrito, but I quickly fell in love with these simple tacos. The perfect mix of spice and fat in the pork is matched with ample fresh onions and cilantro, then comes that special touch, the amazing addition of big slice of grilled onion and pineapple.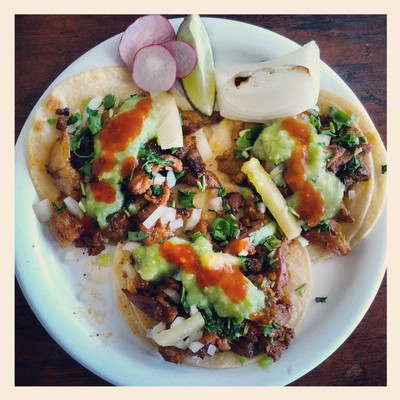 At Tenexepa, the kitchen was hidden from view, so I was ignorant of the true magic behind this now staple of mexican street food. I was also constantly told, "Just you wait, the King of Paso Robles Al Pastor is remodeling and when they reopen, you'll taste the real deal." Well, the King did reopen and I have found myself taking almost all first time visiting friends or family to the patio of Los Robles Cafe near downtown. There, for all to see is the cooking technique that sets Al Pastor apart in the cannon of Mexican cuisine. The pork for Tacos Al Pastor is slow cooked on a vertical spit.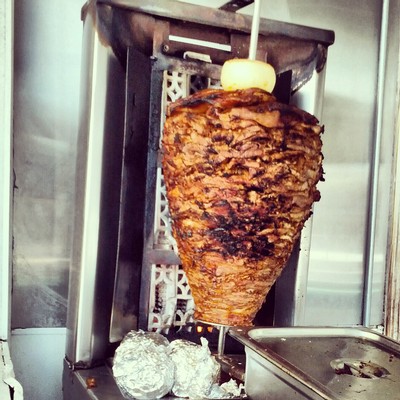 The first thought I had was, "These guys must have a friend who owns a Greek or Middle Eastern restaurant and figured he could cook pork the same way." Well, the actual story is more beautiful than that. And it speaks to how the strange search for authenticity in cuisine is a fleeting dream. Food is merely a reflection of the ever changing evolution of culture. The roots of this now ubiquitous food trace back, amazingly enough, to the collapse of the Ottoman Empire. In the time surrounding WWI, large numbers of Lebanese and Syrian Christians immigrated to Mexico, mainly to the areas around Puebla and Mexico City. They brought with them the Doner Kebab style of cooking. Over time, the locals incorporated these spits for roasting pork instead of lamb and a new food was born.
I was reminded of all this just last week as a new institution has just moved into Paso Robles. During my college days just 30 miles south in San Luis Obispo, one of my standard lunch spots was Jaffa Cafe for their famous shawarmas.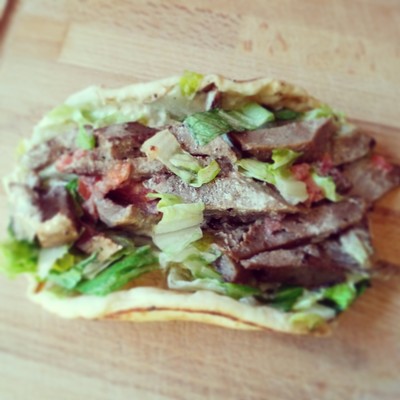 Well, Jaffa Cafe has finally opened a branch here in Paso just a couple blocks from Los Robles, and it is a must visit for lunch or dinner the next time you are in town. Plus you can enjoy this great living example of how food, culture, and history all intertwine to make this world a much more interesting place to eat, drink and live.
Where To Go:
Los Robles Cafe: 1420 Spring Street, Paso Robles
La Reyna Markey Y Carniceria: 532 24th Street, Paso Robles
Jaffa Cafe: 1344 Park Street, Paso Robles (Shared with Panolivo)