July 25, 2012 | Chalk Talk | Jason Joyce
Dreams Of Turkey After Harvest
As presents became more grown-up, Christmas lost its place atop the pantheon of Holidays. When my insatiable appetite for M&M's and Snicker Bars eventually was filled and I no longer attended college costume parties, Halloween fell down a bit. In a few years, once my children grow old enough to truly grasp the magic of those days, they will return to the top. For now though, Thanksgiving is the King of Holidays for me. A day dedicated to the simplistic perfection of meal and family. Brining the wine that I produce to the table, celebrating the harvest that my life is so intertwined with now adds even more to the special feeling. Sadly, cool years in 2010 and 2011 have made Thanksgiving Day a working day each of the past few years. Imagine my joy today when I got confirmation that this year would be different.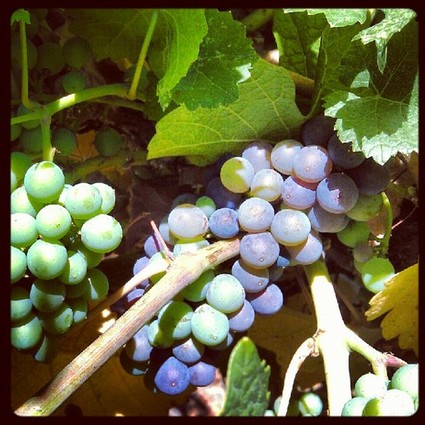 It was August 12th last year when I posted a similar photo. Veraison is the changing of color of the grape skin. It is the beginning of the ripening process. A very loose rule of thumb is that six weeks from now, we will pick this Pinot Noir. Harvest, which did not begin in earnest until late September last year, is looking to come much earlier this year. The timetable jumped on us and now the preparations must begin. All the trappings of the harvest start to take shape. The new barrels start to arrive. The destemmer, sorting table, and press all get cleaned and greased up. Discussions begin on new trial ideas.
I've wanted to try some really short macerations to emphasize fruit in a couple wines. Our assistant winemaker told me excitedly he wants to try some really long ferments, probably in a barrel. You won't really know until you try. We messed around with a new technique for our Chardonnay last year. It's going to bottle in a few weeks, and I'd have to say our new little trick had a positive outcome. A couple more idea will probably come, especially as sleep deprivation induced creativity sets in.
I love harvest. It is probably my favorite aspect to the whole wine making lifestyle. Once a year, one chance, all or nothing, the special mix of creativity under pressure makes for such a uniquely thrilling work experience. You can't really ask for much more. Well, maybe except for vintages like this one, when you do get more. You get it all wrapped up in time to completely enjoy that November meal with the family.