September 5, 2012 | Rory Sheehe
Day Three: Reds Arrive
After a day of fulfilling wine club we were back at it getting the first red fruit of the year. Today we harvested over five tons of Syrah from block 6 here on the estate. This block is one of the steepest slopes we have on the property making it really labor intensive to pick. The fruit tasted and looked great with very clean, oval shaped berries. This year the vines came into balance from the beginning with an even fruit set which led to us not having to green harvest after veraison. These homogenous clusters ripened rather early for us and came off the vine without any raisins. Usually we don't pick this Syrah until after the Pinot Noir from York Mountain, but like anything in life there are no normality's when it comes to vineyards. Each year, each block sings to its own tune so it's imperative you stay on top of fruit sampling and don't rely on previous year's harvest dates.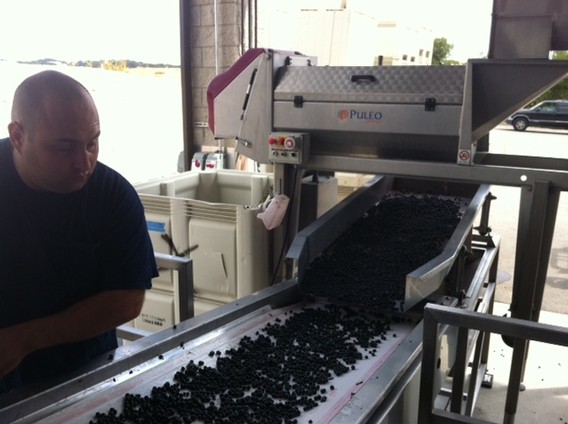 The ever so awesome sorting table. Today was smooth sailing.
We destemmed all of the fruit we harvested today without the use of any crushing to be as gentle as possible. We like whole berries fermentations to maximize the fresh fruit characteristics achieved by keeping the berries intact. I will post more about this in the future as it mostly applies to our Pinot program. The fruit then went into various size tanks to undergo a cold-soak for up to three days before any yeast gets added. This allows several things; first it cools the fruit down so no unwanted native and/or wild yeast can begin fermenting within the must. Second it allows for the extraction process of colors and tannins to begin without the presence of alcohol and at a consistent temperature to stabilize the enzymes within the berries themselves. Lastly, and most basic, cold soaking extends the amount of time the must sits on the skins simply by delaying when we would inoculate.
Just another day in paradise for us in Paso Robles as we were blessed with an amazing Sunrise, Cheers!