May 21, 2013 | Chalk Talk | Jason Joyce
A Fool's Progress To An Honest Wine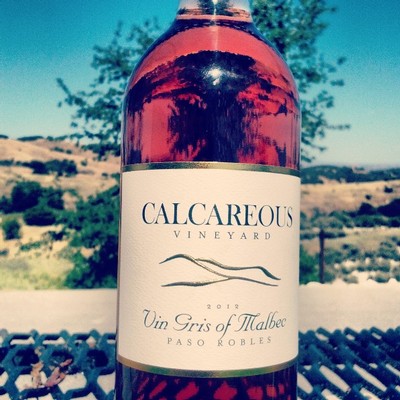 This isn't my first rosé rodeo. In fact, the first wine to ever carry the mark of my hands was the 2007 Calcareous rosé. I was the cellar assistant back then, and the winemaker felt that experimenting with a rosé might be a good way to let me learn a few things. As many winemakers do in this area, we preformed a saignée on almost every lot of red grapes. Saignée is French for bleed, in winemaking it refers to removing a certain percentage of the juice from your red wine ferment. The primary goal is to increase the extraction concentration of your red wine by creating a greater skin to juice ratio. The juice that is bled off is just a bonus. Often it is allowed to flow down the drain, but it can be treated as a must to ferment like white wine, thus creating a rosé.
I was tasked with making a wine from this bled off juice, consisting mainly of Syrah, Zinfandel, and Grenache. I was proud of the fact that I safely guided the juice through the process and the wine was eventually bottled. It was a decent wine, but a bit off balance. This lack of balance to me was inherent in the process used. The grapes were picked under the pretense of creating dense, full bodied and powerful red wines. The fully ripe grapes did in fact do that. Our 2007 Estate Syrah and Zinfandel set a standard for the type of wines we want to create here at Calcareous. Sadly, this did not in my opinion carry over to the Rose. Without the balance provided by the tannins and other phenolics from the skins, the resulting wine tasted off kilter. The alcohol was a bit more upfront and the acid was lacking, creating a wine with little backbone and character.
Being a fan of pink wines I decided I should try again. In order to push myself to create a wine of quality, I decided I would name it after one of my personal favorites, Robert Sinskey's Vin Gris. It also meant, taking a new approach to the winemaking process. I would use a single varietal, chosen during harvest from the lot I felt showed the best characteristics for the task at hand. As should have been expected, 2009 was an extremely hot and dry vintage, thus all of the picks came in way too ripe for using in a rosé and I had abandoned hope of making a rosé. Then, right at the end of harvest, along came a freak storm that dropped over 7 inches of rain during a 30 hour period. The only thing left on the vine at the time was the Estate Mourvedre. To prevent any mold or mildew, the grapes were picked right after the storm. During processing, I saw that the sugar level had dropped from 24% to 22%, an obvious sign of rain induced dilution. The lot was going to require a saignée in order to create a Mourvedre of decent concentration. The resulting Estate Mourvedre was perfect for blending with some very ripe Grenache harvested earlier during the vintage, and our elegant 2009 Grenache Mourvedre was born. It was a happy accident, one of those wines that is not planned but creates itself during harvest if you keep an open mind and avoid dogmatic approaches and goals. The juice that was bled off was light and lively, it created a wonderful wine in its own right. It had low alcohol and decent acidity, making for a pleasurable wine. The dilute nature of the wine though showed in a slight lack of fruit and body. Trying to make up for this, I discovered a useful cellar technique. I collected the lees from the finished Mourvedre ferment, and added it to the rosé. This greatly increased both the color and body, and added a bit of real character and distinction to the palate. Again, this was a happy accident and as good an argument as any for making rose. It is liberating to work with juice that otherwise would end up down the drain. You are free to take risks and try new ideas that come to you as there is very little to lose.
Over the next couple of vintages, none of the lots that came in featured any juice I felt would be suitable for making a rosé. So for 2012, I decided it was time to create a specific rosé lot. Most of the blocks of our Estate Calcareous Vineyard naturally produce about 2 tons to the acre. That is, except for the Malbec. Maybe because it is our only truly flat block, but for whatever reason, we have to drop a considerable amount of Malbec on the ground in order to get things properly ripe. Last year I had the vineyard crew leave 12 rows of the Malbec block untouched when they did their fruit thinning. This was to be my "Rosé Block". The fruit was tasted with the sole intention of creating a rosé, thus I tasted the fruit in the same way I do when sampling Chardonnay or Viognier. Primarily interested in sweetness, acidity, fruit, and the feeling of the pulp, I could ignore the skin because it was not going to be used.
Being a small lot and still early in harvest, the cellar crew and I hand-picked the grapes ourselves. The grapes went straight to press and treated almost exactly how we process and ferment our Rhone whites, except of course for the addition of Malbec lees during winter. The resulting wine is what I feel is an honest Rosé, created for its own sake. I also think it is hands down the best rosé we have created here. It has been in bottle for a little bit now and will be shipping out for our summer wine club. I hope you enjoy the fruition of what has been a 5 year process. Ending with the discovery of how to craft a pink wine that is worthy of the Calcareous label.