Wine Tasting Room | Open Daily 10:00 am - 4:00 pm by Appointment
Lloyd's Lookout at Calcareous
3430 Peachy Canyon Road
Paso Robles, CA 93446
Our hilltop wine tasting room opened in 2008 and was named Lloyd's Lookout in honor of Lloyd Messer, the winery's visionary cofounder.
Come enjoy our award-winning wines while taking in breathtaking 180-degree views. With glass walls, the Tasting Room serves as a fitting showcase for both the lush wines and the beautiful setting. Click here to take a 360 degree tour of our Tasting Room.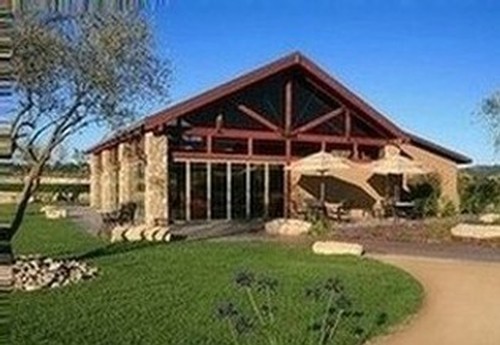 Wine Tasting is available every day by appointment from 10:00 am - 4:00 pm. General tasting fee is $20 per person for a flight of 4 wines. We are currently only accepting gorups of 6 or less people. If you have any special requests, or a larger group, please contact our tasting room for more details. Our gift shop features logo gifts, clothes, books, and wine accessories.
Lunch & Wine Tasting: We offer lunch options daily with appointment from 11:00am - 3:00pm. Please see our "Visit" page for more reservation details.
Holiday Hours: Calcareous will be closed for Easter Sunday, Thanksgiving Day, Christmas Day and New Year's Day.
Please Note: The above information is subject to change due to Wine Club parties, holiday weekends or festival weekends. Please visit our Events Calendar for more information.